Electric Discharge Machining (EDM) Introduce
Electrical discharge machining (EDM), sometimes colloquially also referred to as spark machining, spark eroding,burning, die sinking, wire burning or wire erosion, is a manufacturing process whereby a desired shape is obtained using electrical discharges (sparks).
The performance of modern EDM equipment is extremely high: high cutting speeds, highly efficient automation, interlinking and storage of very long and recurring machining cycles.

And thanks to electronic monitoring and fully automated correction of the EDM process, no supervision is required.

Small Hole Drilling EDM Machine/EDM Drilling Machine
EDM drilling is a form of Die-sinking using rotating electrode.
Small hole drilling EDM is used in a variety of applications.
On wire-cut EDM machines, small hole drilling EDM(Super Drill) is used to make a through hole in a workpiece in through which to thread the wire for the wire-cut EDM operation. A separate EDM head specifically for small hole drilling is mounted on a wire-cut machine and allows large hardened plates to have finished parts eroded from them as needed and without pre-drilling.
Small hole EDM is used to drill rows of holes into the leading and trailing edges of turbine blades used in jet engines. Gas flow through these small holes allows the engines to use higher temperatures than otherwise possible. The high-temperature, very hard, single crystal alloys employed in these blades makes conventional machining of these holes with high aspect ratio extremely difficult, if not impossible.
Small hole EDM is also used to create microscopic orifices for fuel system components, spinnerets for synthetic fibers such as rayon, and other applications.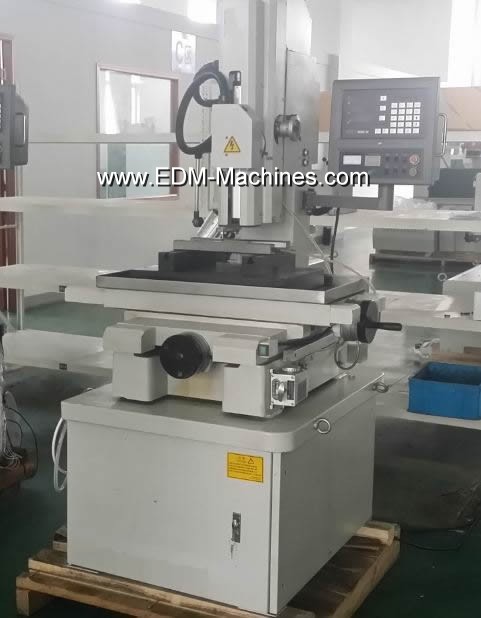 Small Hole Drilling EDM Machine

Applications
Many metal materials are difficult or impossible to machine without adding heat; with EDM hole drilling, these materials can be worked with exceptional precision without applying heat. EDM hole drilling is fast, effective, and can be used to machine virtually any electrically conductive or heat-treated metal material, including the follow material
Our EDM machines are capable of working on virtual all conductive materials
Stainless steel

Automotive

Copper

Carbide

Cobalt

Titanium

Brass

Inconel

Manganese

Cast iron

Hard tool steels

Zirconium

Zamac

Steel

Iron

Aluminum

Tungsten

Silver

Hastelloy

Molybdenum

Tantalum

Gold

Kovar

Chromium

Niobium
30 years of experience in all domains guarantee you to get the best result at the best price for all applications
Industries/Applications